What to do in Ubud at Nighttime?
As the sun sets over the lush, tranquil landscapes of Ubud, the heart of Bali's cultural and artistic heritage, a different kind of magic awakens. While the town is well-known for its serene temples, scenic rice terraces, and vibrant art scene during the day, its nightlife offers an enchanting experience all its own and there is an abundance of activities to do in Ubud at Night.
Keep reading to discover the eclectic array of activities you can partake in at night, from traditional dance performances to lively bars and serene moonlight walks. Whether you seek relaxation, cultural enrichment, or lively entertainment, Ubud's nighttime offerings are sure to captivate your senses.
What to do in Ubud at Night
Here are some our our personal favourites of the best things to do in Ubud at night: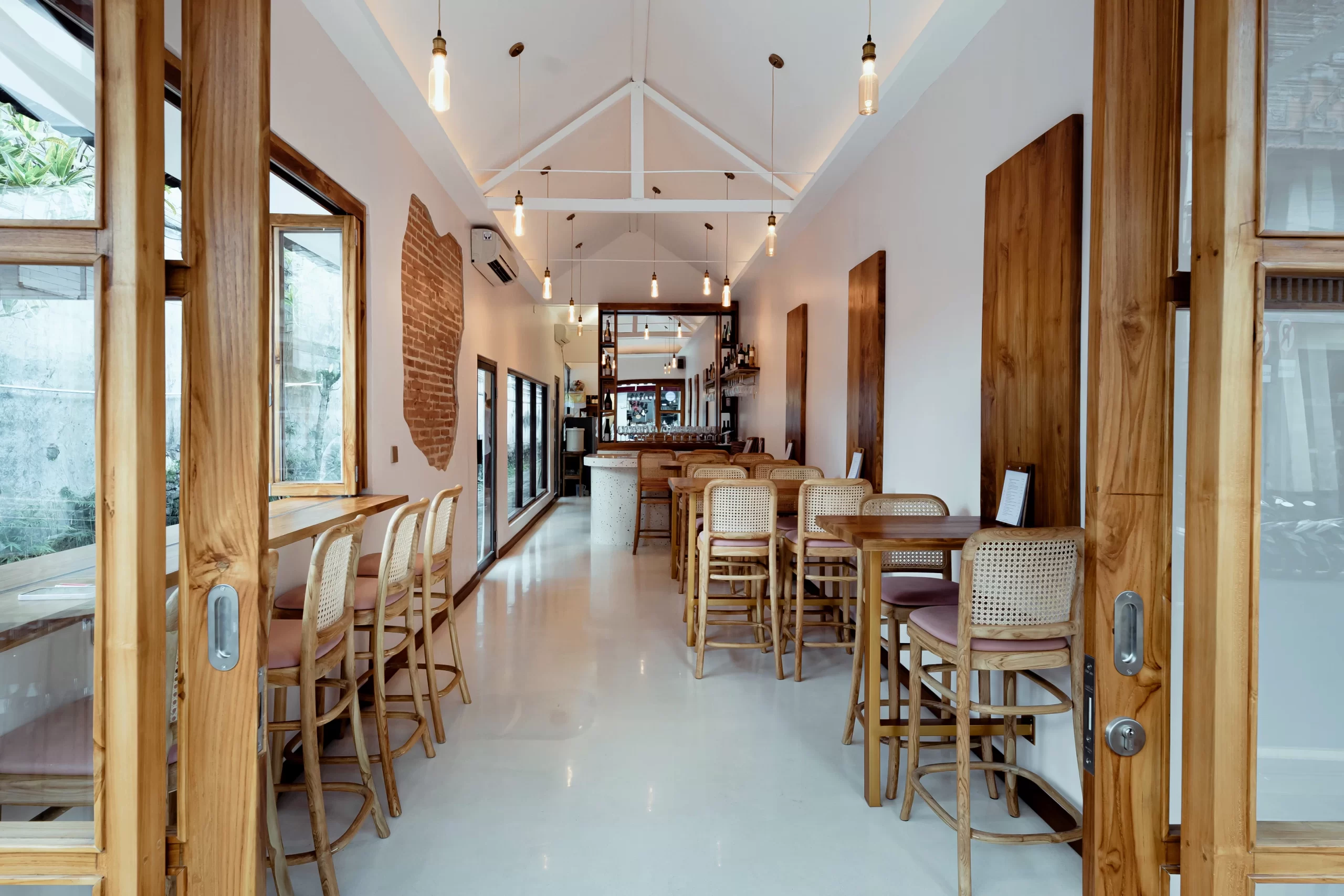 +62 811-3851-310
Jl. Monkey Forest, Ubud
Open Monday-Saturday from 4pm
There's no better way to end an action-packed day than with a nice glass of wine. Gather your friends or a date and head to one of Bali's finest wine bars, Belle Wine Bar & Grazing Boards.
This stylish wine bar presents an impressive selection of over 25 local and international wines, available by the glass or bottle, alongside a choice of craft beers. If you're not sure which wine you want, try a wine flight with cheese pairings to level up your evening.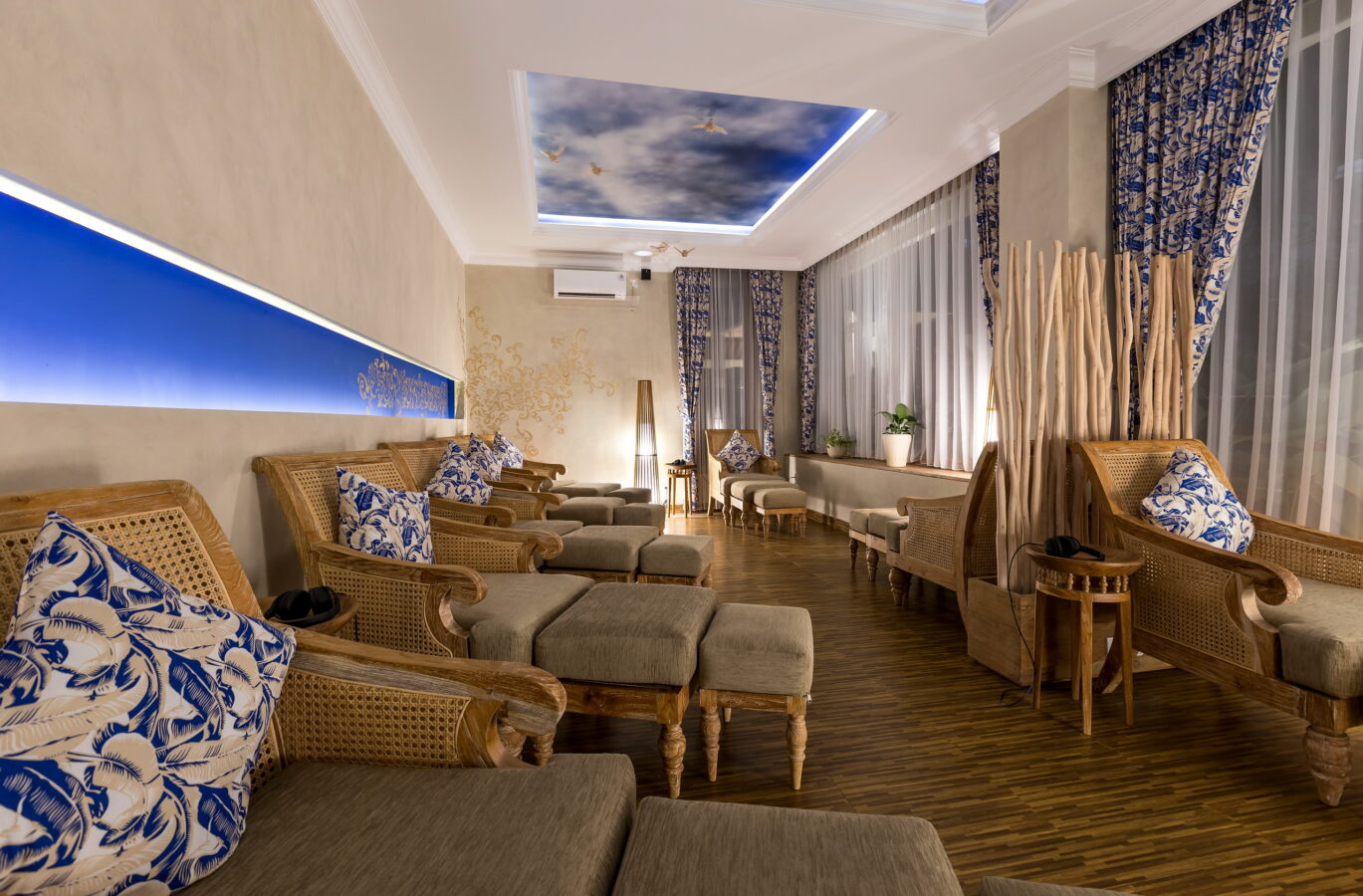 +62 361 972090
Jl. Raya Pengosekan
Open every day from 3 pm to 11 pm
Another great way to wind down at night is with a massage. Thankfully, Evening Massage Ubud is open late, offering a variety of services from traditional Balinese massages to reflexology and nail treatments. Book an appointment online and get set to relax.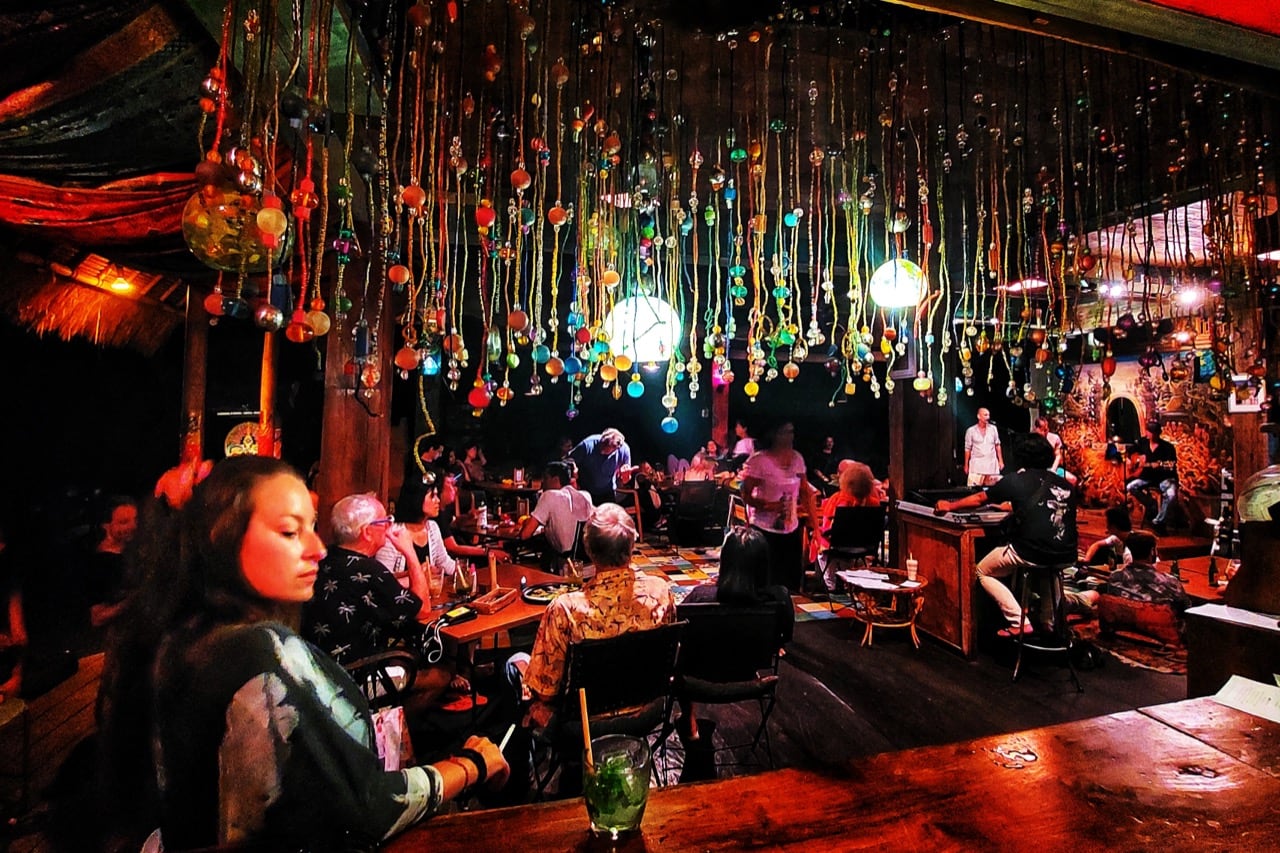 +62 821 9495 4224
Jl. Nyuh Bojog – Nyuh Kuning
Every Thursday at 7:30 pm
If you like singing or just listening to live music, head to Bali Bohemia on a Thursday night for their open mic night. It's an intimate setting, so don't be nervous to head up on stage and belt your heart out. You can also enjoy delicious food and cocktails for the perfect evening out.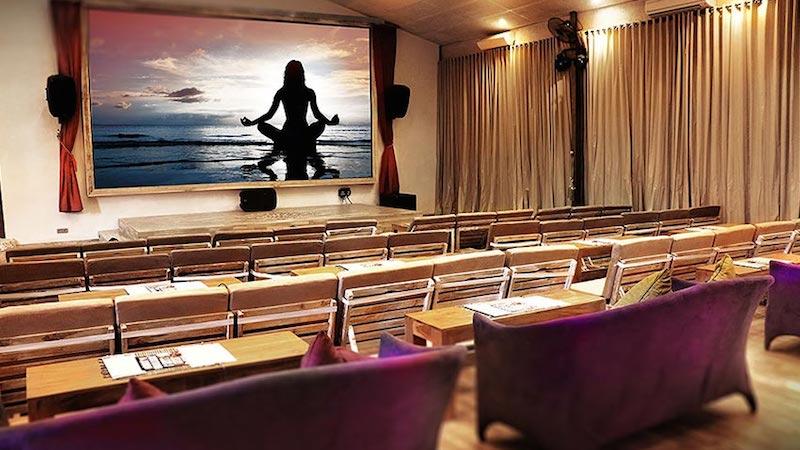 +62 811-3991-718
Jl. Goutama Selatan, Ubud
The cinema is the perfect place for a late-night date, be it with friends or a romantic partner. You can watch both old and new films played in English at Paradiso Ubud. It's also a raw vegan bar, so you can pick up vegan treats to snack on throughout the movie.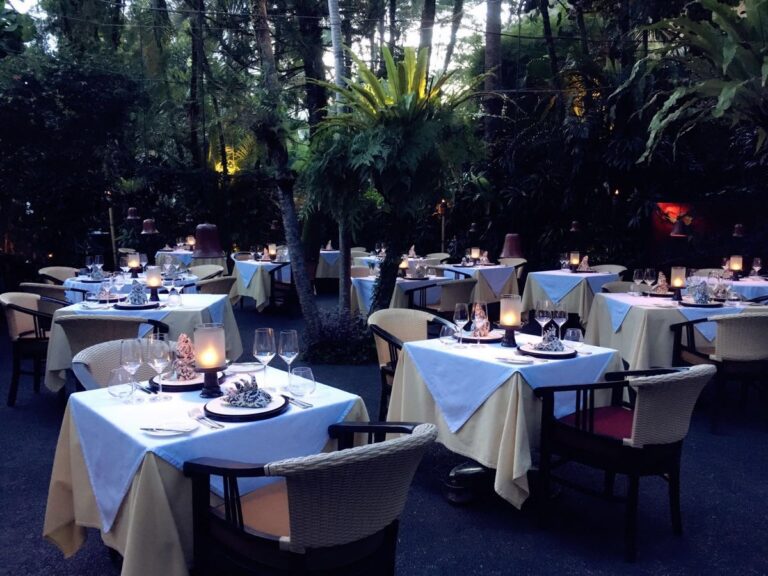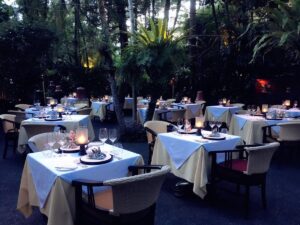 +62 361-975-768
Jl. Raya Sanggingan, Ubud
The dining room is open daily from 12pm to 1am
Another great date spot in Ubud is Mozaic Bali, a fine-dining fusion restaurant that combines French cooking techniques with Indonesian flavours. Mozaic is committed to sustainability, so their dishes are focused on local ingredients. Call to make a reservation, as tables get booked up quickly.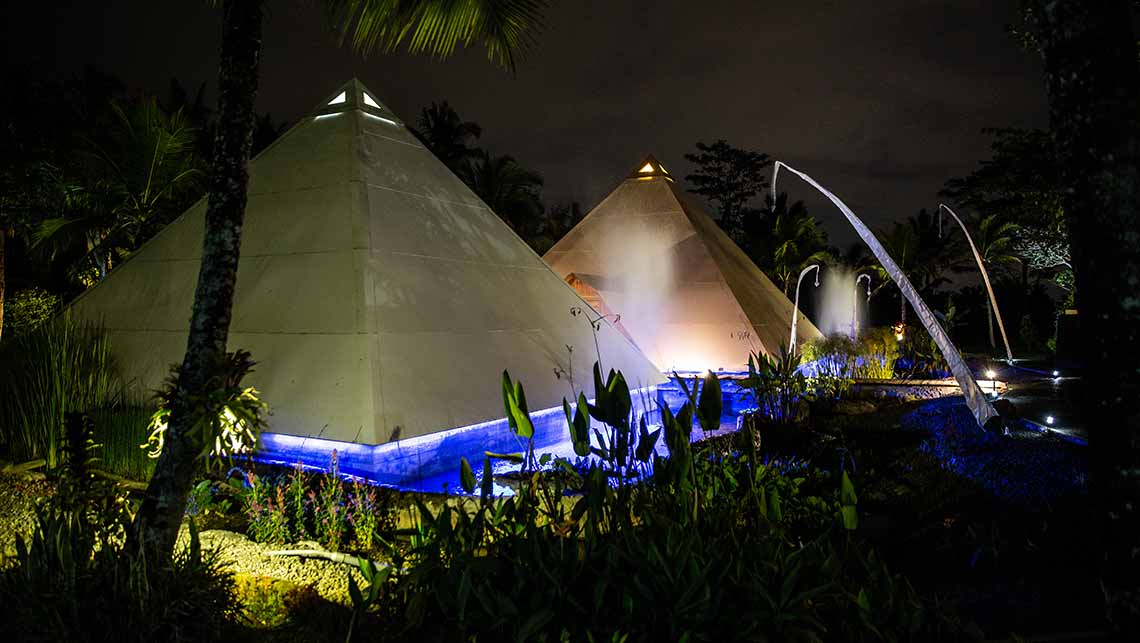 +62 821 4782 3397
Jl. Kelebang Moding
Open every day from 10 am to 9 pm
Get in touch with your spirituality by participating in an evening ancient sound healing ritual at the Pyramids of Chi. Immerse yourself to the healing sound of ancient instruments, Tibetan singing bowls, and traditional chants to rejuvenate and harmonise your mind, body, and spirit. This can help you release negative energies, trauma and find your inner balance, granting you the best night's sleep afterwards.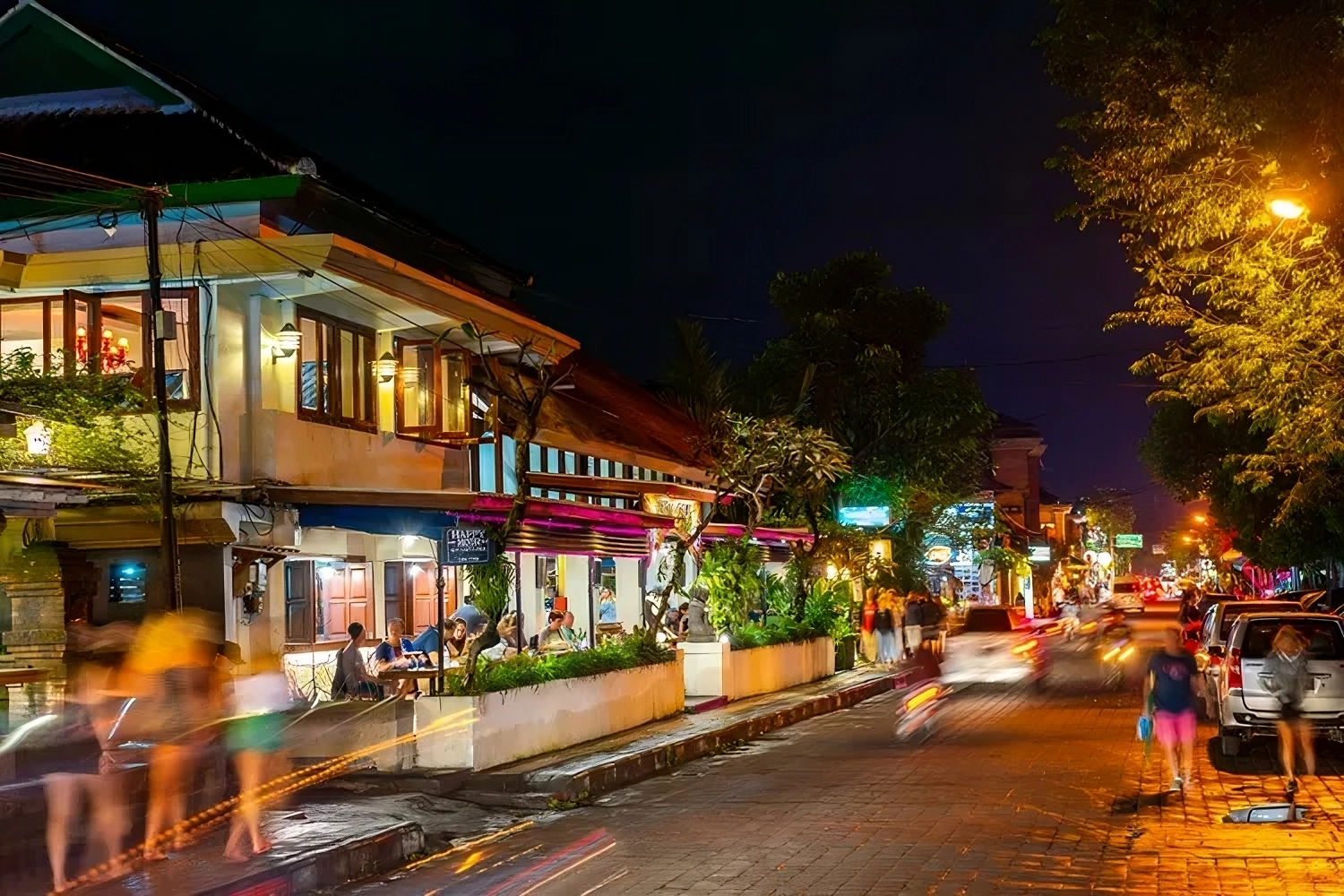 Explore Ubud Centre on Foot
Exploring Ubud by foot is one of the best ways to see the town at night. Begin at Monkey Forest Road, where the sacred Monkey Forest Sanctuary beckons, along with vibrant bars, boutique shops and restaurants.
Moving on to Jalan Goutama, known as walking street, the ambiance shifts to a bustling foodie haven of restaurants, local warungs and spas.
Continue on your stroll to Jalan Raya Ubud to immerse yourself in the town's heart. The bustling street is alive at night with a vibrant market, shops and a multitude of dining options.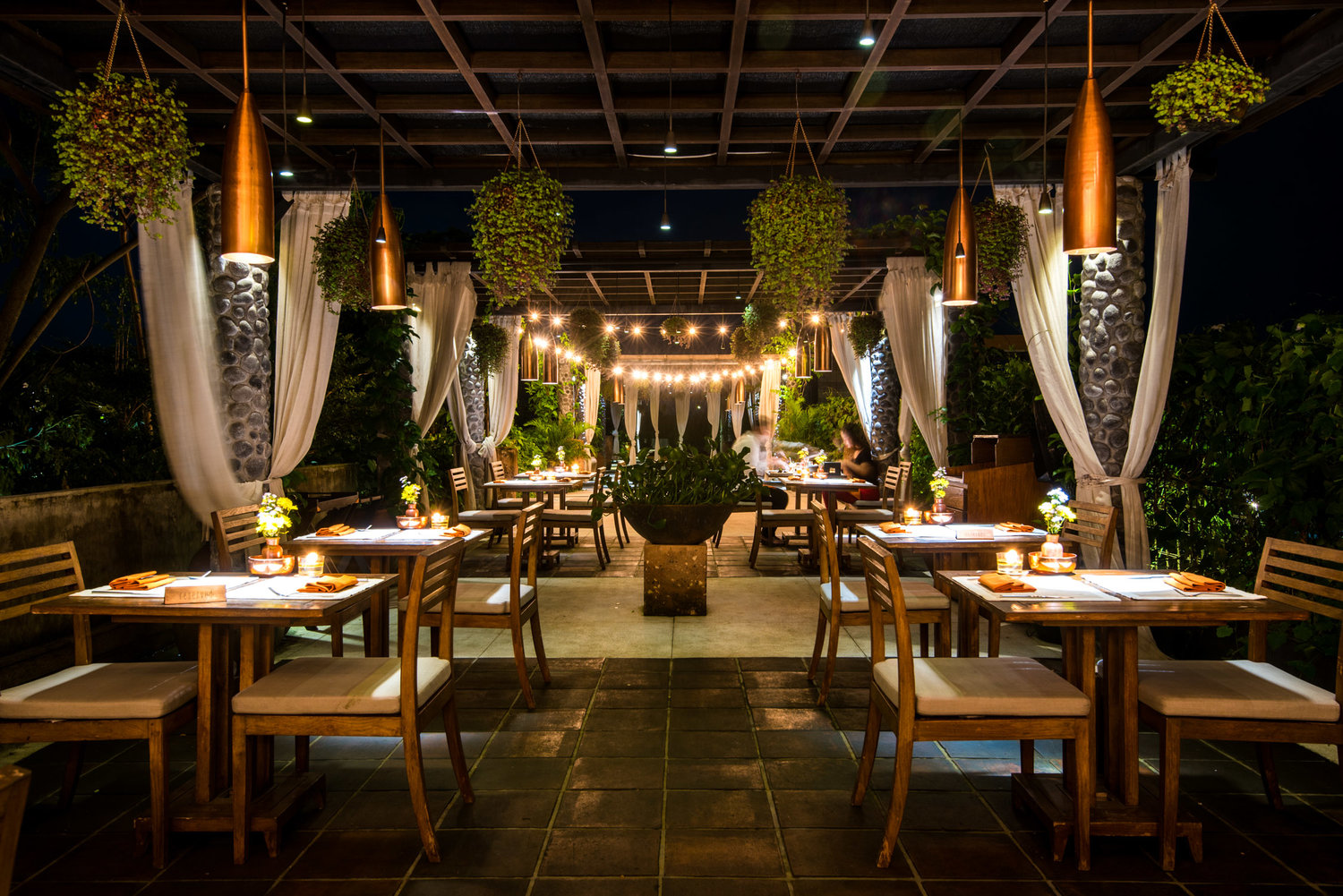 +62 361 479 2888
Jl. Bisma
Open every day from 7 am to 11 pm
If you're looking for an enchanting experience that encapsulates the romance and natural beauty of Bali, head to Copper Ubud's rooftop terrace to dine under the stars. 
Try a local dish made with ingredients from the restaurant's farm and pastures, such as ikan bakar, which is a fish dish with coconut rice and pair with an tropical cocktail.
+62 859 5144 5829
Jl. Bisma No.8, Ubud
Open daily from 1pm
Music lovers need to visit Why Not Bar and Restaurant for their nightly live performances. Grab a drink or something to eat, sit back, and enjoy the tunes. Confirm the performance schedule on their Instagram page before heading over.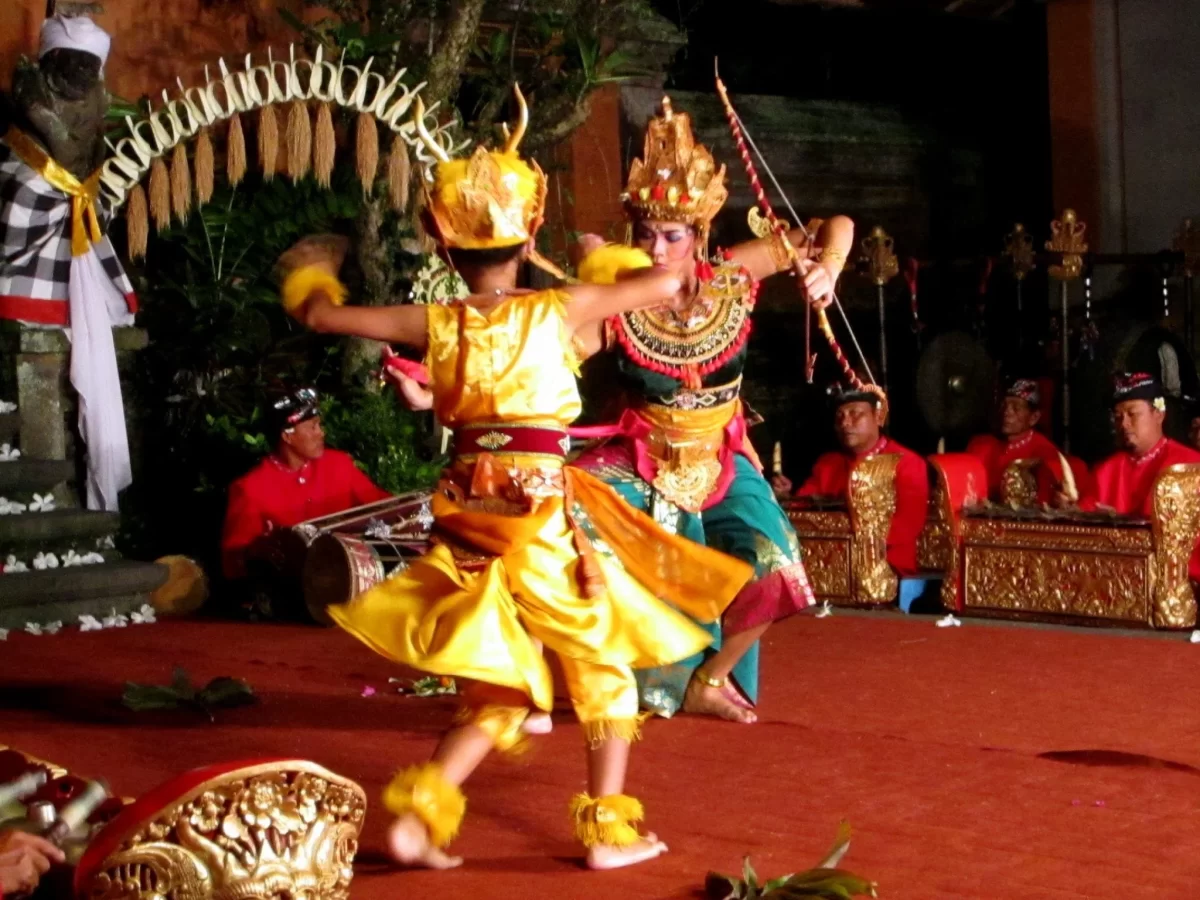 Watch Traditional Balinese Dancing at Ubud Palace
+62 822 6632 1432
J;. Raya Ubud no. 8
If you want to immerse yourself in Balinese culture, visit Ubud Palace in the evening for a traditional Balinese dance performance called a Leong Dance. Dancers perform stories from the Ramayana epic story to the hypnotic melodies of a gamelan orchestra. Check the dance schedule and buy your tickets online.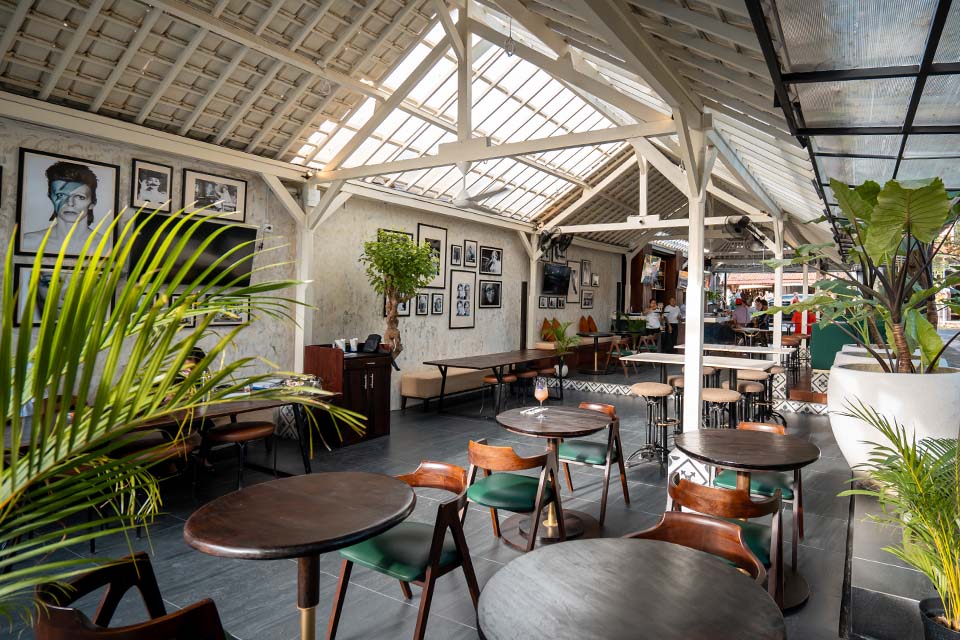 +62 812 3974 0739
Jl. Monkey Forest, Ubud
Open daily from 9am
You can have the perfect night out at the Blue Door Bar, as it has dining, clubbing, live music, and live sports. Try pub classics, like bangers and mash, fish and chips, and Sunday roasts while watching the game.
+62 361 978 954
JL. Monkey Forest. 15, Jalan Wenara Wana No.15, Ubud
Open daily from 1pm
Clubbing at CP Lounge offers a unique experience, as the open-air venue fuses modern entertainment with Bali's natural beauty. Try one of the many creative cocktails and listen as the beats of the DJs come alive while you dance the night away.
What to do in Ubud at Night Conclusion
We hope our 'What to Do in Ubud at Night' guide has been helped you plan your nighttime activities for your holiday Ubud. From people watching and mingling amongst the tourists and vendors in the bustling streets, partying, watching a show or relaxing with a massage, there are plenty of activities to keep you entertained. Whether you are travelling solo, with friends, in a couple or with a family, there are so many things to do after the sun sets.